How Chakrit lost over 20kg and drop his body fat% from 30% to 16.5%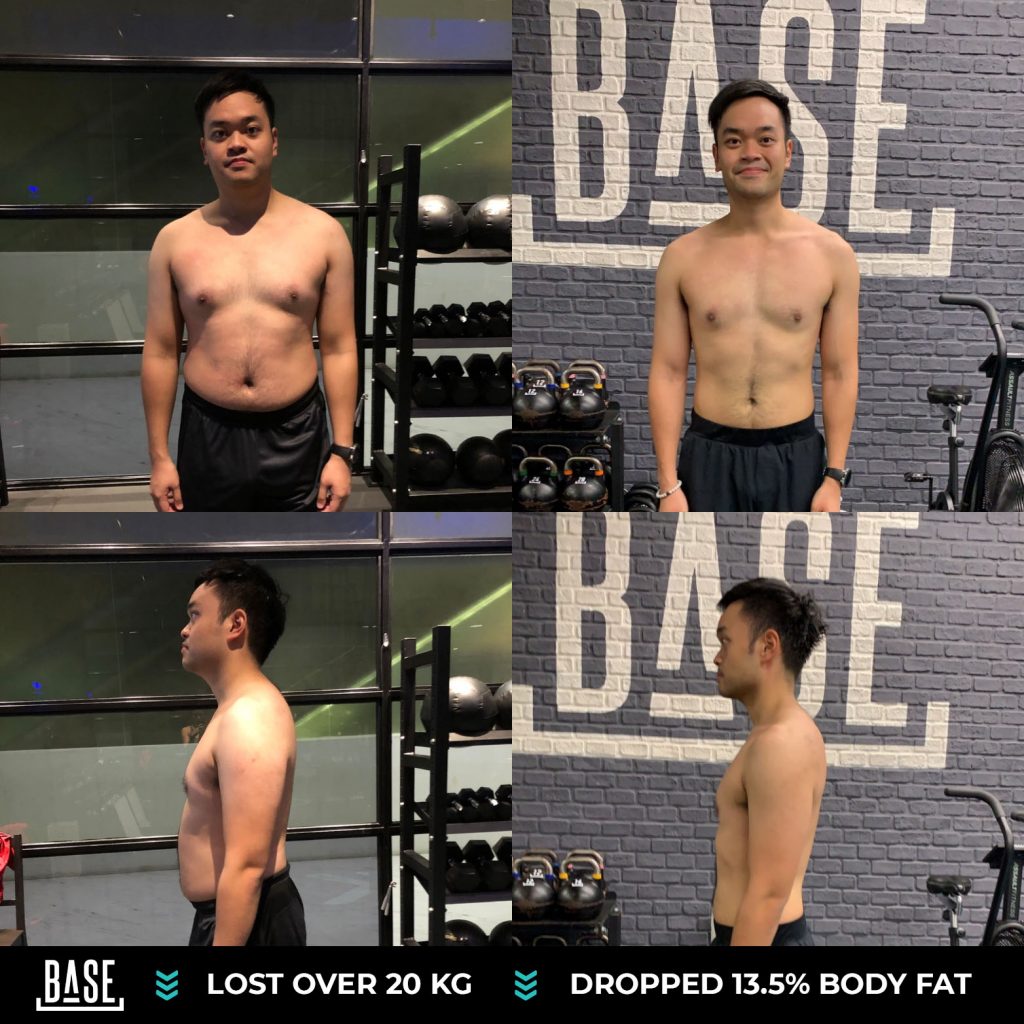 Our coaches love training people who are committed to change and are ready to take action on the advice and recommendations given.
Chakrit felt a little nervous when starting but Chort, his fitness coach, made sure he felt at ease and progressed at the right pace for him.
Chakrit did a mix of private group personal training and classes and after a year of consistent training, he's seen incredible results.
Chakrit is living proof that hard work and consistency pays off. He has lost over 20kg and drop body fat percentage from 30% to 16.5%

Chakrit has not only got great results from personal training at BASE, he has also received an education on fitness and nutrition from his coach.
Here's what he had to say about his journey with Coach Chort:
"At first I felt a little nervous because I didn't know what to expect and if the classes would be intense. But my first group class was actually with Chort and he was very friendly, attentive and explained the class structure quite well, so it definitely made getting started a lot easier."
How do you feel now? What results have you had?
"I feel great! Not only did I lose about 20kg, I feel that my understanding of fitness and nutrition has grown much more. It has helped me live a much more balanced and healthy lifestyle. In addition, I feel more energetic and well rested day in and day out."

How has Coach Chort helped you?
"Chort has been an amazing coach. His attention to detail and form is impeccable and his genuine care for his clients and their progression makes him a coach I would recommend in a heartbeat. His knowledge of anatomy and how the body works has also helped me to understand how to maximize both my training at BASE and my nutrition.
He's helped me to better understand the role of the different muscle groups and the importance of a total, well rounded workout. As an added bonus, our similar interests in sports and hobbies has made each PT session much more fun and engaging.
I also want to give a shoutout to the other BASE coaches and staff too as they have also have been very helpful and created a welcome environment to train and have fun."
Any tips for anyone starting out?

"Consistency and accountability have been the biggest determining factors for me. Having a partner to go with for the PT sessions has definitely made it a lot easier for me to stay accountable and to show up to BASE on a regular basis.
Even on the days that I wasn't able to perform at my best, I still made it a habit to show up as much as my schedule would allow. Regarding nutrition, what gave me success are the little changes that gradually led to bigger and more rewarding changes, rather than doing an "all-or-nothing" approach.
Having fun along the way is definitely just as important though!"
Interested to train with Coach Chort?
If you're interested to train with Coach Chort or you know someone who would like to lose weight and drop body fat %, please send them this link and encourage them to get in touch.
Plot is another client who train with Coach Chort and get amazing results in his performance – Check out Plot's amazing transformation and how he increased his deadlift by 300%
Make that first step today – fill in your details below and our team will get in touch shortly!