Power Couple Matt & Sara Took On The 60 Day Challenge Together
We believe that you should surround yourself with positive people that support your goals. And what better person than your partner!
Matt and Sara entered the Challenge together and it's been great seeing their progress through the 60 days and beyond.
The data shows they've improved their fitness, seen fat loss of 5.5% between them and increased muscle mass.
They've been very regular with their training and it's been clear to the coaches at BASE that they're fitter and moving better.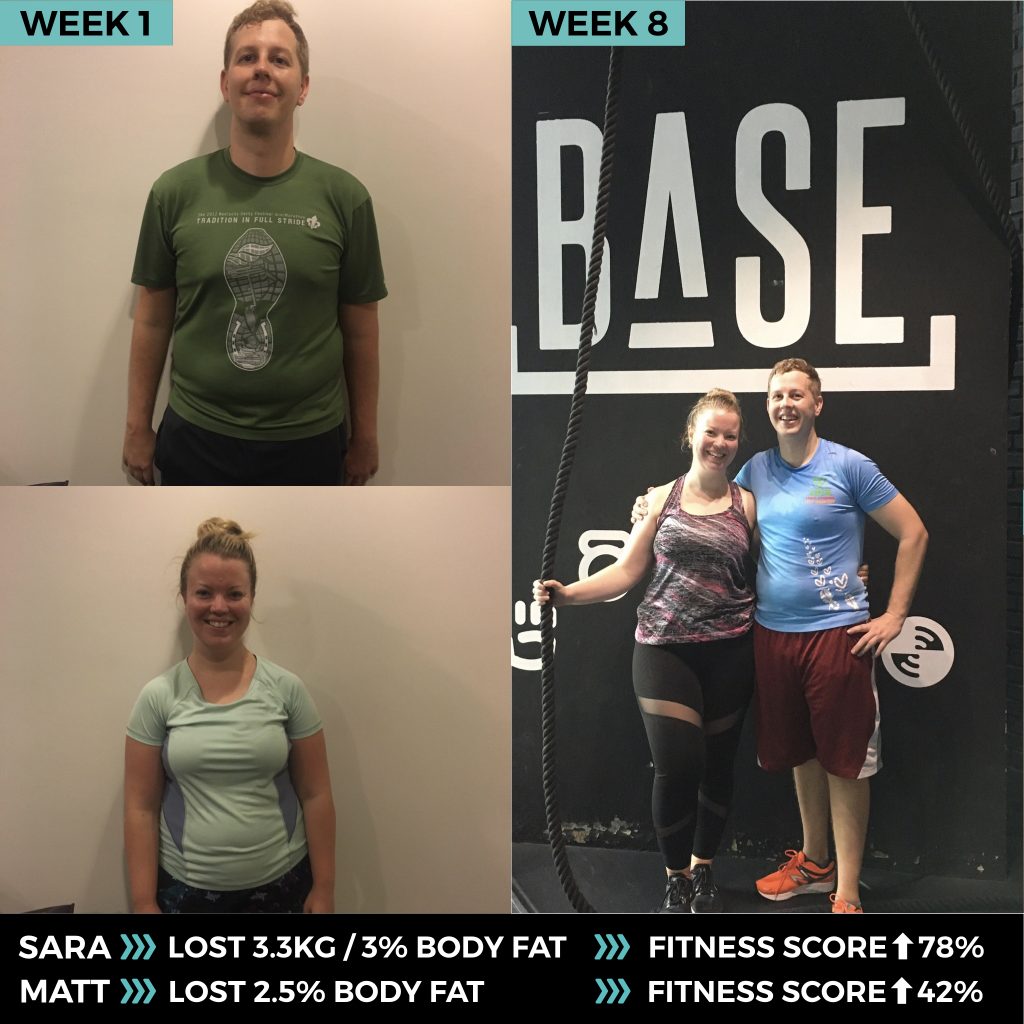 Here Sara's story:
I've been physically active in the past, but I felt a bit stuck as far as my weight and fitness level.
My boyfriend and I decided to join the challenge together. At first I felt like I couldn't perform the moves properly and had low confidence. However, throughout the 60 days, I really noticed a difference in my body and became more confident with my fitness.
The instructors are so inspiring and helpful. Another bonus was getting to spend time with my partner and encourage each other along the way.
I feel like the challenge was the boost I needed and we have decided to continue our membership at BASE and sign up for the next challenge!
In total, I lost about 3kg, 3 inches on my waist, and 4% body fat. This is only the beginning!
Matt's Story
I have also enjoyed the 60 day challenge at the Base!
Having been active as a runner and playing Gaelic football, I needed a change in my routine.
I have been hesitant about joining gyms in the past as weights were not an area I have had success with before. Joining the challenge was a great opportunity for my partner and I to work out and encourage each other in our successes.
I've really enjoyed the time at Base, and we will continue with another month until the next challenge begins. I want to thank Kate, Mek, 
Matt
 and Brent for encouraging us on this journey.
I finished the challenge losing 1.7kg, 2.5 inches on my waist, and 2.5% body fat.
Thank and you and we look forward to starting the next 60 days!
OTHER BASE SUCCESS STORIES