BASE Lowdown: Personal Training Coach Brent
Brent Calderon is a personal trainer from San Antonio, Texas specializing in Strength & Conditioning through barbell training. He has also worked as a physical therapist technician, where he got his first look into rehabilitation and rebuilding clients through pre- and post-surgery.
Whether you are a young female new to working out or a 70-year-old male with two knee replacements, he will use proven training methods and tailored programs to help you hit your goals. Learn more about coach Brent and his style of personal training on his BASE Team profile page.
What's non-negotiable for you when it comes to fitness and health?
Exercise shouldn't be seen as a chore but often times, it is viewed as such. Exercise should be a priority because your future depends on it. It should not be viewed as optional.  You may choose to ignore this obligation but nature is very unkind to sedentary people.
What's a typical breakfast for you?
Overnight oatmeal with chocolate protein and milk in a shaker. And I'll grab an iced black coffee in route to work!
How do you manage your training and diet when you're on holiday?
Before I go on holiday I look up nearby gyms so my training doesn't get affected by the holiday. Eating enough protein through the holiday seems to be tricky. So I am sure to pack some whey protein in case I don't get the sufficient protein intake.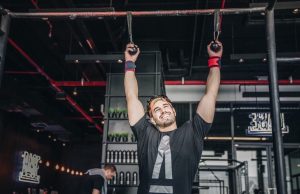 What's your best strategy to stay motivated?
A good strategy I use to stay motivated is keeping my eye on the goal. Create weekly goals that you can achieve so you don't discourage yourself into feeling like the long-term goal is unattainable. Self-motivation means your desire to be stronger has to exceed a human tendency to be complacent or comfortable.
The best thing we can do for ourselves is…
Don't take yourself too seriously. Live and experience the life you love! The reason I believe it is so important to prioritize your health is so that when you walk outside these gym doors, you are able to savor every minute of it. Let's live that life while minimizing physical pain and preventing disease. Back pain or lack of strength can be a real downer out in the field. Take care of the vessel in which you use to explore life's precious moments.
What's your go-to snack?
I'm a sucker for a perfectly glazed croissant.
What do you do to relax?
I've always enjoyed a good ol' video gaming sesh.
What's your post-workout routine?
I try to get a high protein high carb meal and write out the numbers that I hit during my workout.
Sum up your dietary approach in a sentence?
Too many people have the "all or nothing" approach to dieting. Think of it as school, you don't need to get 100 to pass the class, but if you try your best and make an 80 you still go on to graduate. Build good eating habits but don't worry about being perfect. Just do the best you can!
---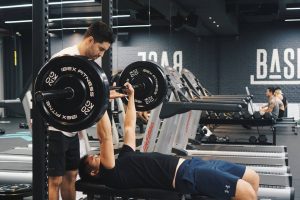 Build good eating habits but don't worry about being perfect. Just do the best you can!
-Brent
---
Being a good personal trainer means…
Being a good personal trainer means pursuing and engaging in your clients' goals. It is important to be there for them, mentally and physically, each step of the way. A good personal trainer motivates and encourages discipline by showing clients that they can and will achieve results!
What's the biggest diet mistake or misconception?
While it's true, you can't outwork a bad diet, a big misconception people have is that eating the right way has to be a miserable experience. That is simply not true. If you learn how to properly track your macros, you can still enjoy the foods you love.
What are your top tips for how to keep your energy levels up?
Personally, If I'm ever feeling like I need an energy boost, I'll grab some coffee! But more importantly, I get enough sleep the night before.
I believe everyone should…
Be able to live a strong and healthy life. Pain can be prevented and pain can be tackled. Getting strong builds more than muscle….it builds your mentality.
Life's too short not feel the best you can. Do something about it!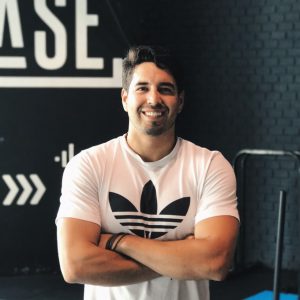 3,2,1… GO
Best Bangkok Healthy Eatery? Honey Bear on Ekkamai
Favorite Cheat Meal? Pancakes
Favorite Exercise? Bicep curls
Most-hated exercise? Burpees
Weird fact about you? I own a lot of cat shirts.
One thing you can't live without? PROTEIN!