BASE Anywhere Frequently Asked Questions
BASE Anywhere is our new online training platform offering both on-demand workout videos and daily live stream sessions.
We have over 40 new workouts released every month. You can do it at home, anywhere, with minimal equipment and space.
You can find more details about BASE Anywhere here.
Below are some of the frequently asked questions we've received about BASE Anywhere and how it works.
How much is the membership?

BASE Anywhere is 1,900thb per month and is a monthly membership that is paid as a direct debit from the card you used to sign up.
BASE Anywhere membership be cancelled at any time with 48 hours notice.
What day does the payment come out each month?
The direct debit card payment comes out every month, starting from the day you join.
For example, if you joined on the 15th April, your next payment will come out on 15th May and then the 15th of each month.
How do I join classes?
After you purchase the BASE Anywhere package, you will receive an email with a link to join our Facebook group. Once you click 'join', our team will accept you in accordingly.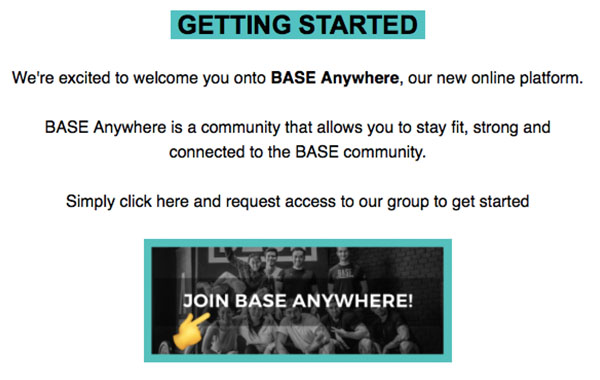 Once our team has 'accepted' you into the group on Facebook you can start doing the sessions.
We offer both on-demand classes and live stream sessions.
What's the difference between 'on-demand' and 'live-stream?'
'On-demand' are our pre-recorded videos that are high-quality and are edited with text and music. They can be watched and re-watched at any time.
'Live stream' sessions are live – so the coach is with you at the same time showing you the exercises and correcting your form and technique.
Our 'on-demand' workouts are done through the Zoom webinar platform. You can download Zoom here.
What time are the classes?
On-demand videos are released at 6.00am and can be viewed at anytime. You can re-do your favorite sessions as often as you like.
Our live-streamed sessions are at 5.30-6.15pm from Monday to Friday and 3.00-3.45pm on Saturday and Sunday through Zoom.
Do I need equipment to join?
Whilst you can do BASE Anywhere with just your bodyweight, it helps to have some equipment.
You can also use household items like bags and water bottles. Anything that weighs something offers extra resistance which you can use to build muscle!
Where can I get training equipment?
We've teamed up with top suppliers to get you high quality equipment at a great price – read our blog post for details on suppliers and what to buy.
You can also rent BASE equipment – see our rates here and contact us at [email protected] to arrange delivery.

Ready to start now? Buy now at 20% off your first month, apply 'BASEANYWHERE' at checkout to redeem the discount. (one redemption per member)
How can I cancel my membership?
You can email us at [email protected] with 48 hours notice for your request and our team will process accordingly.