BASE Launches Open Gym Concept
Update: Open Gym is a service that is only provided when group classes are not permitted. We are currently not running our Open Gym concept – please contact us if you're interested in starting training or check out our services.
For our Open Gym concept, we are limited slots to 12 people per session, 50% of our capacity, offering a huge amount of space for a safe and airy workout!

STEP 1
Book your session in on the BASE App or by contacting us (schedule is below)
STEP 2
Arrive 5-10 minutes early for the Open Gym session to get ready.
STEP 3
Complete your own warm up for the first 5 minutes.
STEP 4
The coach will go through the workout on the board and then you follow the BASECAMP program – mixing cardio and strength for 5 minutes on, 2 minutes off.
STEP 5
Complete your own cool down at the end.
STEP 6
Please leave the training floor on time so we can get the space set up for the next round of BASECAMP Open Gymers!

Can I do my own training/exercises?
No. Everyone joining our Open Gym sessions will follow the format and workout structure on the board which is our signature BASECAMP class offering a mix of cardio and strength.
How long are the sessions?
The sessions are 50 minutes long and you can use the space after for stretching and cooldown, if you wish.
Can I arrive any time?
No – the latest we can let you in is 5 minutes into the session and the first 5 minutes is for you to complete your warm up, so please arrive 10-15 minutes early so you can get ready.
Do I sign in as normal?
Yes – you will sign into your first station. Everything will be contactless, just let our CSO know where you'd like to start.
How many people are permitted in the open gym session?
We are only permitting 12 people in each session to allow for safe distancing of at least 2m. This is 50% of our full capacity.
Cardio equipment will be spaced 2m apart.
Will equipment be cleaned before use?
Yes. Everyone will have a cloth and spray to clean equipment in the 2 minute break. All equipment is thoroughly cleaned between Open Gym sessions.
How is Open Gym charged?
It is charged as a standard group class session deducted from your package or drop in.
Is the BASELINE technology available?
Yes – our BASELINE tech is available as an option.
Is it on ClassPass?
No. Our Open Gym sessions are not currently available on ClassPass.
I don't have a package. How can I book?
Simply purchase a package here or drop in session online and we can book you into your requested Open Gym session.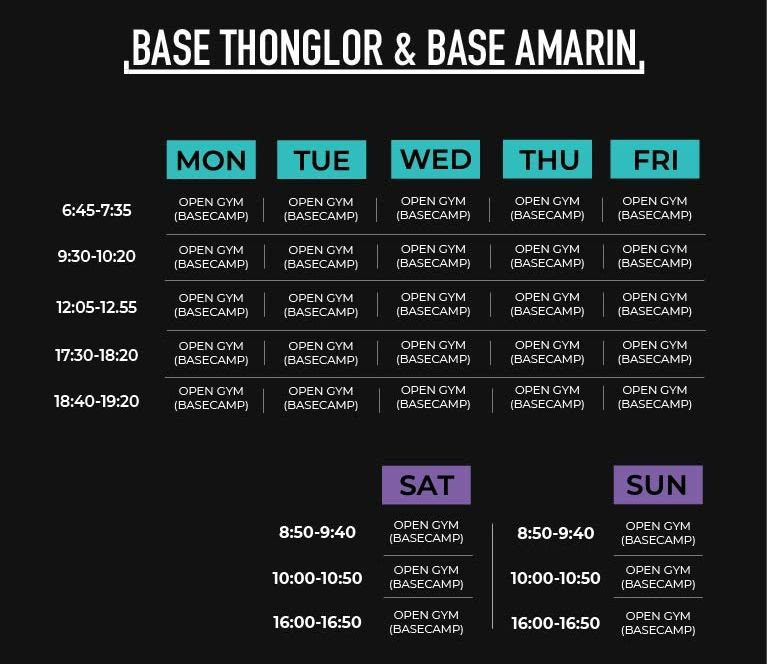 Our Open Gym offers you a safe and effective training experience but if you'd like more space and privacy, personal training is a great option right now.
We're now offer a promotion on our personal training starter pack at 5,900thb for 30-minute consultation (value 1,600thb), 3x Personal Training sessions (value 9,600thb) and an InBody body composition scan (value 300thb).
This Starter Pack promotion is available to all to get you started after gym closure, whether a new or current member at BASE.

Need help getting started with personal training?

Leave your details below and one of our fitness managers will get in touch shortly.