BASE Lowdown: Personal Training Coach Jason
Jason Deknatel is a Thai/Dutch NSCA certified strength and conditioning coach who specializes in barbell strength training. He strives to help individuals develop their ideal physiques as well as improve quality of life. Jason believes that regardless of age, gender, or experience, anyone can benefit from a personalized strength training program and proper nutrition. Learn more about Jason and his style of personal training on his BASE team profile page.
What's non-negotiable for you when it comes to fitness and health?
Barbell exercises. There are too many health benefits from barbell strength training to not do them.
What's a typical breakfast for you?
I'm not much of a morning eater but I try to get some form of carbohydrate and protein in – a piece of toast and an egg or protein shake.
How do you manage your training and diet when you're on holiday?
For my diet I simply make sure I get the right amount of carbs, proteins, and fats – I love eating too much to not enjoy myself while I'm on holiday. Managing training is a bit tough because it depends on where I go as some places don't have gyms with a squat rack (I know right??).
What's your best strategy to stay motivated?
Do what you love and make it a habit. I believe once something becomes a habit you no longer need motivation as it is finite and fluctuates. Once something becomes a habit it is a consistent part of your life which is key to progression and success.
---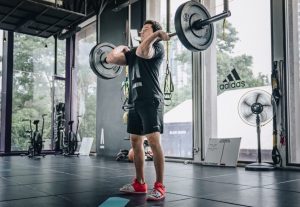 "Do what you love and make it a habit."
-Jason
---
The best thing we can do for ourselves is…
Lift some weights, eat whole foods and do what you enjoy doing.
What's your go-to snack?
Either a glass of milk with a PB&J sandwich and a protein bar, or I'll chuck some milk, oats, peanut butter, whey, and ice cream into a blender. Or a burger… yeah… I'm more of a "slightly smaller meal" kind of guy…
What do you do to relax?
Watch TV series, play video games and drinking a perfectly chilled cha yen.
What's your post-workout routine?
If my training involved heavy deadlifts and squats, I usually lie on the floor in fetal position for 15 minutes and ask myself why that was so tough. Otherwise, I'll hang out and chat for a while before I eat some carbs and protein for the gains.
Sum up your dietary approach in a sentence?
It all depends on what your goals are. My particular training goals require me to eat carbs, protein, more carbs, and more protein. Oh, and don't forget to eat your vegetables! Side note; it's okay to treat yourself every now and then so go ahead and enjoy that pizza and ice cream.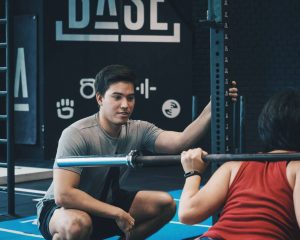 Being a good personal trainer means…
Really investing in your client and their goals, constantly striving to improve yourself as a coach, being open to feedback and criticism, staying up to date with the latest scientific literature, having gone through the process, and finally, educate and inspire your client.
What's the biggest diet mistake or misconception?
That one particular food group is responsible for disease epidemics.
What are your top tips for how to keep your energy levels up?
Eat and sleep. I cannot emphasize enough how important nutrition and rest is.
I believe everyone should…
Do strength training. Again, the literature shows there are too many health benefits of strength training to not do it.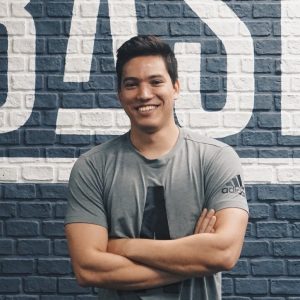 3,2,1… GO
Best Bangkok Healthy Eatery? Paleo Robbie
Favorite Cheat Meal? Pizza followed by an apple pie and vanilla ice cream. And a chocolate chip cookie.
Favorite Exercise? Pin Squats
Most-hated exercise? Tempo Squats
Weird fact about you? I'm absolutely terrified of clowns…
One thing you can't live without? Cha Yen