BASE Lowdown: Personal Training coach Gale
Get the Lowdown on BASE Coach Gale, a personal trainer specialised in pre and post-natal training. Gale experienced the benefits of exercise and living a healthy lifestyle during her pregnancy. She now uses her knowledgable and friendly approach to inspire other mums through a strong, safe pregnancy and regain their shape, health and confidence after birth.
What's non-negotiable for you when it comes to fitness and health?
My weekly exercises – work will always come, and life will always get in the way. Exercise is something good you're doing for yourself. So just get out there and do it.
What's a typical breakfast for you?
Iced tea with chia seeds and grilled bananas
How do you manage your training and diet when you're on holiday?
Badly! I'm more indulgent with food and lenient with training while I'm on a holiday. My husband always asks me "Are you still not full?" when we go out to eat on our holidays. One time when we visited Israel, I thought one could die from hummus overdose.
In general, I don't train while I'm on a holiday but our family loves walking, so we just strap Vivian, our 1 year old on and go. As luck would have it I'm very competitive when it comes to FitBit leader board that really gets me moving like nothing else.  Without FitBit I would surely turn into a couch potato during my holiday.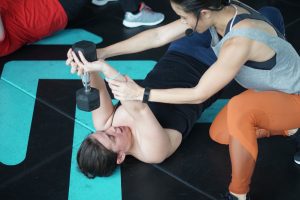 What's your best strategy to stay motivated?
To me motivation is a myth. Routine is much better.  I'm OCD when it comes to diary planning and todo lists. I get a real kick out of crossing things off my list. If I've completed something but have forgotten to write it down, I would go back and write it so I can cross it off the list. So with exercise, I'd write down which day I'm planning to exercise, do it and cross it off. Something so satisfying!
The best thing we can do for ourselves is…
To respect it, look after it, fill it with memorable experiences, and surround it with good people
What's your go-to snack?
Grilled bananas
What do you do to relax?
Exercise and neck massage, isn't that how everyone relaxes?
What's your post-workout routine?
– To soothe my soul, I usually have icy cold fresh coconut water
– To sooth my muscle, I usually have a protein shake after the coconut water
– To aid the recovery of my aching legs, I get my husband to sit on them (this only works if he decides to go along)
Sum up your dietary approach in a sentence?
Balance energy in with out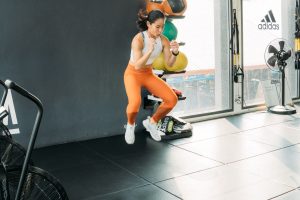 Being a good personal trainer means…
I get to evangelise the benefits of exercise, and brainwash clients into believing and experiencing the benefits of exercise for themselves. Exercise is so good for you!! Many people only see exercise as a way to lose weight, and yes it's true exercise helps burn fat and build muscles but exercise does so much more for you!! It helps boost your energy level, it's good for your health, it makes you strong, it improves your quality of life, and such a good way to socialise. I've made so many friends since I joined BASE.
What's the biggest diet mistake or misconception?
To lose weight you need to go on a diet or go on an exercise bender – You might achieve a short-term weight loss goal but it's not a sustainable lifestyle. To achieve and maintain your happy weight, you need a sustainable routine. It's a long term lifestyle not a short term race so you need to be able to maintain it.
What are your top tips for how to keep your energy levels up?
Exercise! (Are you surprised?)
I believe everyone should…
Live in the present more
Respect and be kind to others
See potential friends not strangers when they come to BASE class!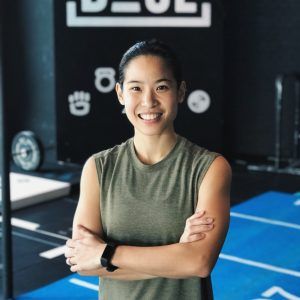 3,2,1… GO!
* Best Bangkok Healthy Eatery? Khua Kling Pak Sod
* Favorite Cheat Meal? Deep friend sticky chicken cashew nuts
* Favorite Exercise? Burpee
* Most-hated exercise? Assault Bike
* Weird fact about you? I get goosebums when I need to pee
* One thing you can't live without? My family